Site Build It! (SBI!): Build Your Own OnLine Business - Chris's Review
I've always been a fairly technically literate person but I really had no idea how to start a successful website from scratch. I had the passion for healthy foods and I knew I wanted to help people but taking any of that knowledge and experience and translating it successfully to a website was a daunting proposition. I just had no idea where to start.
I had tried creating other websites in the past using other website building platforms. Nothing wrong with any of them except there were some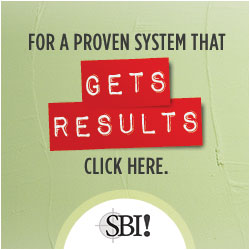 critical components missing that I just couldn't find in any one place on the internet that made any sense to me. Site Build It!, as it turns out, fixed all those problems! 
What was missing was more than the actual act of using web tools to build a website. That was fairly easy to figure out. It was the guidance and knowledge about how to present my information on line, how to attract the right audience and how to be found on search engines.
What about creating another source of income? What about layout? What about RSS feeds and marketing research tools? What about the key words I should use? I didn't know what I didn't know.
And believe me, there were a lot more questions where those came from. But even more...I felt like I needed a community of people willing to help.
For a long time, too long, it just went to the back burner of my "to do" list and I just never made any real effort to try to build a website for myself that I could use to help people...and ultimately follow my passion for healthy foods. As a matter of fact, I was starting to forget about it.
I guess it was just one of those things that I do when I don't fully understand something and I don't want to dive into it and screw it all up. That would be a huge waste of time and I wasn't willing to do that. If I was going to build a website, I wanted to do it right...the first time. And I knew I needed help.
How I Found SBI!
Years ago -- I'm not even sure exactly when -- I had found Steve Pavlina's website and I found it with Google searching personal development. I've always enjoyed reading about personal development and inspiring quotes and use every opportunity that I can to employ them in my life. Of all the websites I have ever found, Steve's website is certainly among the best and most inspirational I have ever seen.
One night after work, I found myself exploring his website again and reading through passage after passage of excellent content. And then...I saw it. Steve was recommending a website building platform called Site Build It! (SBI!). What did I have to lose, right? I had to check it out!
I dug in deep to research Site Build It! and the more I learned, the more it rung every bell in my head. This is exactly what I have been looking for! The tools, the education, the support network, hosting and so much more, all with a money back guarantee. Are you kidding me? There just isn't any excuse NOT to do this!
I signed up that night and haven't looked back since.
Why Use SBI!?
When using the Site Build It! platform, you don't need to build your website from scratch. They provide an array of templates to choose from that are able to be customized to your heart's content in a point and click format.
All this automation allows you to focus on writing content and setting up the look and feel without having to deal with the technology and coding that would come along with it. This is a huge time saver, especially if you already have a busy schedule and don't have the time to get into all that.
For me, this was especially useful because I still need to pay the bills and keep my day job while I'm building this additional stream of income. Time is of the essence. Anything that is detracting from making forward progress was simply out of the question. These automated point and click tools are a life saver!
For those of you perfectly comfortable with customizing your website down to the finest detail, be rest assured that the Site Build It! platform is compatible with other HTML editors and allows you to get all the customization and flexibility you want.
If all that weren't enough, those aren't even the real reasons you should be using SBI!. 
When I started using the Site Build It! methodology, you are taken through a series of Action Guides broken into "days". The action Guide is like going to website and internet college. Not to be confused with actual days, the "days" in the action guide are lessons you go through giving you all the information you'll need to get through that section successfully which sets up the next "day" and builds upon the one before it.
These lessons take you through how to use the tools that are provided for you and even how to brainstorm ideas for your website theme and purpose.
The Action Guide was the missing piece I needed to pull the trigger and begin working on this website for myself. I needed that knowledge, the research tools and the day to day guidance of what I should be doing so that I could build my site correctly right from the start.
Further, there is an entire community of other SBI'ers...thousands of them...willing and ready to help you out all along the way. If you have questions or get in over your head, there's probably someone else who has been there too that can get you through it. I speak from experience!
Site Build It! also has a knowledge base where you can research and find tips and tricks for using all kinds of other revenue and traffic generating topics and methods. An example would be using Google+, YouTube and Pinterest to maximize your website traffic...and how best to go about it.
I could go on and on.
If you have ever wanted to build a website, another source of income and/or share your passion with the world...Site Build It! is the place to build that dream. Site Build It! is an all-in-one solution that can take you from start to finish...no matter how literate you are when it comes to building websites and working within the constantly evolving world of the internet.
The Tools You Get With Site Build It!
Site Build It! contains just about every conceivable tool that you'll need to research, build and maintain your website as well as build traffic and monetize it. Below is an incomplete list of the tools you get with Site Build It!:
domain name registration
web site hosting
point-and-click page creation
content management
blogging
market research
traffic stats
search engine optimization
auto-responders
form builder
graphic manager
customizable templates
sitemaps
RSS feeds
web mail
newsletter management
Many of the tools listed above are completely automated saving you a ton of time. An example would be when you create a new page and publish it to the web, Site Build It! automatically updates your sitemap and sends it to Google and Yahoo. Don't know what a sitemap is? No worries, Site Build It! has it handled for you. Want to know what a sitemap is? The Action Guide will have your answer.
Site Build It! also has proactive tools that you don't even need to turn on or know about. For instance, if you have broken links on any of your web pages, Site Build It! will send you an email notifying you of the pages and the links that are broken so you can quickly and easily fix them.
Getting Started with Site Build It!
The first thing I'd suggest is heading over to the SBI! home page and taking a look around. There's a great video there that will familiarize you with what SBI! is all about.
If your interest is peaked and you're ready to learn more before signing up, check out the SBI! Video Tour. This will take you more in depth and give you a better look around. It is a 30 minute long video and well worth the time invested. Once you've seen this video, you'll have a solid understanding of what you'll get from SBI!.
Another must-know component of the SBI! approach to building a successful on line business is the C-->T-->P-->M process. What is CTPM?
The SBI! CTPM Process
The CTPM methodology is strong and is a sound process. In case you didn't see it, this is exactly the model of re-mindhealth.com. I followed this process step by step. I never knew I would be able to create my own income generating website and here it is...live on the internet!
If I can do this, I am absolutely certain that you can too.
What Site Build It! Is Not
This is not a get rich quick scheme. Most notably, there is nothing quick about this. To do anything worthwhile and to do it right takes considerable time and effort. Late nights are a common occurrence for me but I love doing this because it's my passion.
There is also no guarantee of success. There are so many factors that go into whether or not something is successful that there is no single magic formula that will work for anything and everything. That's just not the world we live in.
However, you will certainly miss every shot you don't take. By doing nothing, nothing is created and no chances given. Put in the effort, create new and original content on your own website and do it right using the SBI! process and you stand a pretty good chance at creating something that could change your life forever.
But, to taste what success is like with Site Build It!, take a look a these SBI! case studies. Very inspirational!
Take Action
I strongly recommend you try SBI! to build an income generating website of your own. A year form now, you'll be so glad you did.
But every day wasted is a day delayed in creating your freedom! Don't delay any more. You can create your vitality, health and strength by taking action with the information on this website and you can create your freedom and happiness by taking action now with Site Build It!